FRANKFURT – GOURMET CITY WITH A BAD REPUTATION
Let's face it – Frankfurt has a bad reputation. This is a city of cold, domineering skyscrapers, a high crime rate, a raucous red light district and planes constantly overhead due to the international airport. Yet every year more and more people visit Frankfurt, and not only for the numerous trade fairs. They come to get to know this surprisingly green city, with a rich culture that is only emphasized by the wonderful food.

Within Frankfurt's districts lie twelve restaurants with the coveted Michelin Star, and for a good reason. For our tour though, we focus on authentic Frankfurt cuisine and where to find it. As someone who's grown up in Frankfurt, this guide is intended to show you where to find the food that my parents and grandparents cooked, and that is so close to being as good (though let's face it, nobody beats grandma's cooking). Before we do that, let's take a look at Hesse (the state Frankfurt is in) and what exactly Frankfurt cuisine consists of.
HESSE AND FRANKFURT CUISINE
The Hessian cuisine has very rural roots. The ingredients of traditional food were regional products, taken from local farms and forests. Looking at meat, the most popular choice was pork, with beef being reserved for special occasions. Frankfurt, on the other hand, was a trading city, located on the crossroads of major trade routes. Because of this, Frankfurt has always been very cosmopolitan. The rural cuisine was not considered good enough for the city.
The many travelers and traders brought ingredients and spices that were impossible to find in the countryside, and because of this, the local cuisine shows many outside influences. However, with such a cosmopolitan lifestyle, the locals found it difficult to find the time to prepare intricate and time-consuming dishes and so created meals that were very straightforward. The food must require little time to prepare, such as beef sausage (Rindswurst), or be cooked in one pot, such as cured pork cutlets (Rippchen). There are meals, which didn't even require heating elements, such as green sauce (Grüne Soße). Despite the speed and straightforwardness, they required a high standard of quality and flavor.
1. Apfelwein (Apple Wine)
Apple wine in Frankfurt has an age-old tradition. In 1501 the city council prohibited new vineyards from be planted, so the population, naturally looking to continue to produce alcohol, switched their wine production to apples.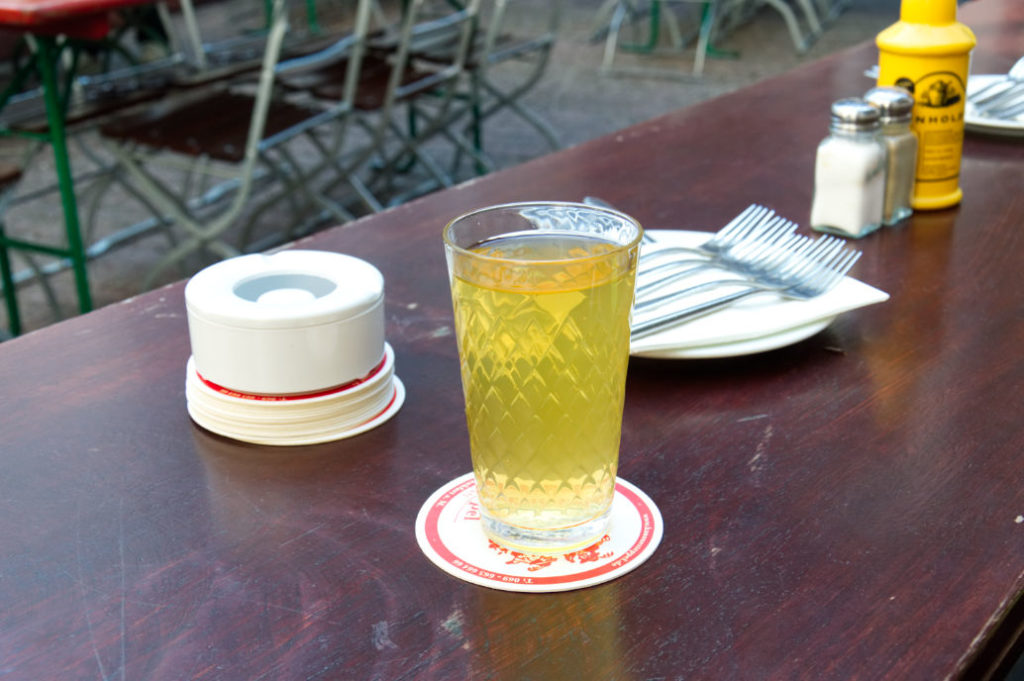 Apple wine in Frankfurt is called Ebbelwoi or Stöffche. It has a strong, sour flavor. It is traditionally served in Bembeln (large jugs) which is shared by the table in Gerippten (a ribbed pattern) glasses. Traditionally apple wine glasses had beautiful wooden lids (usually of family crests) that were placed on top of the glasses when one was seated outside.
For Hessians, there is only one way to correctly drink apple wine, which is pure. However, it is very popular to mix your apple wine with either about 20% mineral water (Gespritzt), 50% (Tiefgespritzt) or with 20% lemon-lime soda (Süßgespritzt). If you want to maintain any level of respect from the tavern owner, though, ordering it with the soda is a bad idea. While foreigners get a bit more leeway, you may well notice a change in attitude after polluting their beloved Apfelwein with soda.

2. Handkäse mit Musik (Hand Cheese with "music")
Handkäse is a sour milk cheese served with rye bread, butter, "music" and optionally caraway seed. When you order it, you will be asked if you'd like to have them or not. The cheese is made of non-homogenized milk, salt, and baking soda. After several days, the milk turns to curds which are then mixed with the rest of the ingredients and is then kneaded. The mixture used to be shaped into small cheeses by hand, therefore, "Hand Cheese." The cheese ripens for 12-14 days. The "music" is the onion sauce made from raw, thinly chopped onions, sunflower oil, vinegar and water. In Frankfurt's taverns, it is served with only a knife as a utensil. Don't bother asking why – this is as much a mystery to Frankfurt's locals as it is to you.
Before you order it, you should give it some thought. This tends to be a dish that people either love or hate, but should you be brave enough, I hope you end up on the love side. Alternately, you can order one of the other dishes from Kanonesteppel listed below.
Have you enjoyed reading this article so far? This blog post is a part of the Food Tour PDF that I have written for all of you – food lovers that are coming to Frankfurt and want to experience Frankfurt traditional food. I will be honest with you. It took me several weeks to research and prepare this PDF Food guide for you. To continue reading this article I would like to encourage you to download the Self-guided Food Tour Frankfurt PDF. It would mean a world to me. Thank you!